Starting a Strength Training Program?   10 Basic Exercises to get you started.
Starting a strength training program for the first time can seem overwhelming to some.  Since there are limitless exercises to choose from it can be hard to come up with a routine that will not have you working out for 2 hours.  When starting a strength training routine, I recommend one keep it simple with basic exercises that will tax the most muscles for a full body workout.
Squat:  Squats work the entire lower body (legs, glutes) as well as the core being used heavily for stabilization.  Barbell squats or machine squats are good options.
Pushups:  Pushups work the chest, shoulders, triceps, and core.  Pushups can be made more or less difficult depending on the height at which they are done.  Doing them with your body at an incline will be easier than flat, decline, or knee pushups.
Pullups:  Pullups work the entire upper back.  Pullups can be done in a rack or on a pullup machine to be made easier than regular upright pullups.
Shoulder Press:  Standing or seated shoulder presses work all three muscles of the shoulder.  The core is also worked stabilizing.
Deadlifts:  Deadlifts work the upper back, lower back, core, quadriceps, and hamstrings.  Deadlifts can be done with a barbell or dumbbell.
Dumbbell Chest Press:  Doing chest presses on a flat or incline bench with dumbbells work the chest, shoulders, and triceps.  Using a dumbbell works each side independently helping balance any weaknesses.
Dumbbell Row:  Dumbbell rows work the upper back primarily.  The core is used again for stabilization.
Hamstring Curl:  Lying or seated leg curls work the hamstring muscles.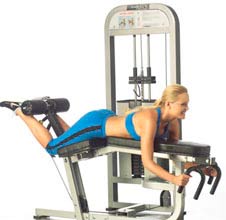 Dumbbell Curl:  Dumbbell curls work the biceps of the arm working each arm individually.
Cable Pushdowns:  Cable pushdowns work the triceps of the arm.  Pushdowns can be done using a straight bar, V-shaped bar, or rope on the cable.
Doing 2-3 sets of 8-12 repititions of each or some of the movements above once a week would be a good routine for introducing strength training into one's physical activity.
Article written by Greg Loerzel, Personal Trainer.